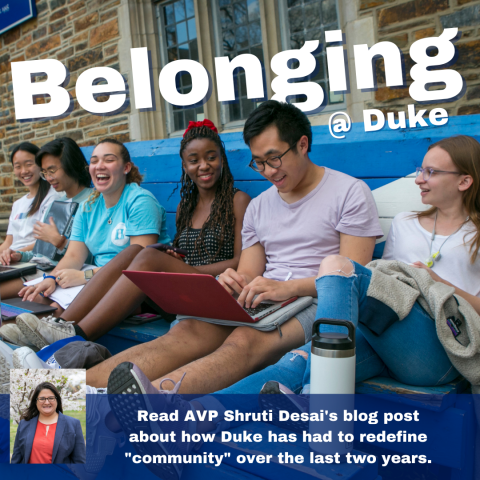 BLOG AUTHOR:
Shruti Desai, Ed.D.
Over the last two years as a community Duke had had to redefine community. How do we rebuild a pivotal experience virtually? How do we have difficult dialogues when we are not sitting across a table from one another? How do we support students who are used to being a big fish in a small pond acclimate to being a small fish in a big pond? We grappled with these questions and always returned to the value of creating a sense of belonging. Dr. Brene Brown defines belonging as "being part of something bigger but also having the courage to stand alone, and to belong to yourself above all else." This goes beyond fitting in or joining a club or liking your roommate. It means feeling good enough in your own skin to know that you can belong wherever you go.
The departments encompassing the area of Student Engagement within the Division of Student Affairs mission is "thrive authentically; building joy through community." Programs such as Sophomore Circles held by the Mary Lou Williams Black Cultural Center or the Penny Pilgrim George Women's Leadership Initiative housed in Student Involvement and Leadership offer opportunities for small groups of students to gather to build community, dialogue on various topics, and find a place of belonging on Duke's campus both virtually and in-person. These events along with tenting, Devil's Masquerade, and residence halls offer deep relationship building on a large campus. These relationships help students reduce their pond size and learn to share space with individuals across diverse identities and backgrounds.
In this season of commencement, we hope as students reflect upon their tenure at Duke, they say it was a place where they started to learn who they are and what they value, they found a home away from home, and made some of their best friends. These comments reflect that students found belonging within themselves and their surrounding community, particularly after two long challenging years of navigating the pandemic, which is a goal we aim for as the Division of Student Affairs.