Kosher deli classics, Mediterranean-inspired meals, and Freeman Favorites
The Freeman Center Cafe is a Kosher establishment located in the Freeman Center for Jewish Life, which also houses Jewish Life at Duke. Serving Duke students, faculty, staff, and the public. The Cafe is under the rabbinical supervision of Duke's Campus Rabbi, Rabbi Elana Friedman, and operated in partnership by Duke Dining and Jewish Life at Duke. All items are prepared in our Kosher kitchens.
Chef Sebastian Marcet serves up made-to-order kosher deli classics, Mediterranean-inspired meals, non-dairy coffee beverages, desserts, and more, catering to a wide range of dietary restrictions including vegan, gluten-free, and dairy-free.
Hours
Monday 12:00pm - 7:30pm
Tuesday 12:00pm - 7:30pm
Wednesday 12:00pm - 7:30pm
Thursday 12:00pm - 7:30pm
Friday 12:00pm - 2:00pm
The Cafe operates on Duke's academic calendar and is closed on University holidays, Jewish Yom Tov Holidays, and Duke's summer break.
The cafe will be closed for summer from May 6, 2023 through August 27, 2023.
Location
Located on the first floor of the Freeman Center for Jewish Life on Duke University's campus.
1415 Faber St. Durham, NC 22705 
Located on the C-1 (East-West) Bus Route at the corner of Campus Dr. and Swift Ave. Free city street parking is available on Faber Street, Hull Street, and Powe Avenue.
Phone
919-684-1331
2 Ways to Order
Order using the Duke Dine-Out Mobile Ordering app 
Order in-person at the Freeman Center Cafe window 
Free Delivery to West Campus Pick-Up Spot
Want your meal delivered to West Campus? You can choose to have your order delivered to the Express Pick-Up Spot on West Campus (outside the ground floor of the Brodhead Center, by Panera Bread). 
For the West Campus Express Pick-Up Spot delivery option, tap the "Pick Up" icon on the top right of the screen in the Duke Dine-Out Mobile Ordering app and select "Pickup Spot" type (instead of "Pick Up" type).
We Accept
Credit Cards
Duke Dining Food Points/Flex
Duke Dining Meal Plan Equivalency for Duke students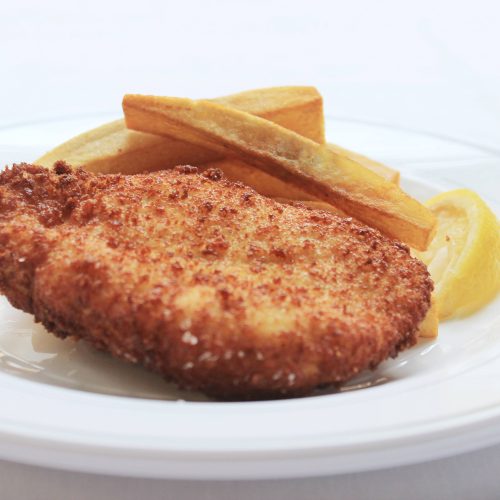 Soups
Freeman's Famous Matzo Ball Soup (Chicken or Vegetarian)
Hearty Tomato & Vegetable
Soup of the Week (Rotating Special): Butternut Squash, Tofu Bean Chili, Spicy Red Lentil, Moroccan Vegetable & Couscous Stew
Salads
Garden Salad (Large or Small)
Fattoush Salad
Israeli Salad
Santa Fe Salad
Hummus Plate
Quinoa & Roasted Veggies
Fresh Fruit Cup
Hot Fare
Chef's Weekly Special (Meat or Vegetarian)
Bourekas: Potato, Mushroom, or Spinach
Crispy Chicken Schnitzel & Fries
House-Made Latkes
House Cut French Fries
The Bubbe Special: Soup & Half Sandwich
Bowls
Southwest Chicken Bowl
Israeli Grilled Salmon Bowl
Vegan Protein Bowl
Build Your Own Bowl
Sandwiches
The Bubbe Special: Soup & Half Sandwich
Braised BBQ Brisket Sandwich
Marinated Grilled Portabella
Pastrami on Rye
Sabich Pita Sandwich
Veggie Wrap
Grilled or Cirspy Chicken Pita Sandwich
Turkey & Avocado Sandwich
Coffee
Cafe Americano
Cafe Latte
Cafe Mocha
Cafee Macchiato
Cafe Cortado
Cappuccino
Espresso (Single or Double Shot)
Add-Ins
Single Espresso Shot
Flavor Shot (Caramel, Vanilla, Sugar-Free Vanilla, Warm Spice, Chocolate Sauce)
Specialty
Vanilla Latte
Caramel Latte
Turtle Latte
Warm Spice Latte
Spiced Macchiato
Hot Chocolate
Beverages
Hot Tea
Dr. Brown's Soda: Original Cream Soda, Diet Cream Soda, Black Cherry, or Root Beer
Limonana
Dessert
Babka (Chocolate or Cinnamon)
Jumbo Black & White Cookies
Freeman's Famous Chocolate Chip Cookies
Chocolate Rugelach
Did you know the Freeman Center Cafe is on the Duke Dining meal plan?
Students, use your Food Points/Flex to pay for your made-to-order lunch and dinners!
You can also use your Duke meal plan dinner equivalency from 4:30-7:30pm ($9.95 dinner equivalency).
The Freeman Center Cafe operates under rabbinical supervision by Duke's Campus Rabbi, who serves as the Rav HaMachshir and mashgiach/mashgicha. The rabbi's office is located in the same building as the dining facility. 
The following policies are adhered to at the Freeman Center Cafe to ensure kosher standards:
All meat is all Glatt Kosher.
All challah is Pas Yisroel. 
The facility has separate meat and dairy kitchens with clear markings, and only one kitchen at a time is permitted to be in operation.
All Duke Dining staff who enter or work in the Freeman Center kitchen undergo a three-hour Kashrut Training followed by a test on kosher policies and procedures. Staff then undergo a yearly one-hour refresher training followed by a test in order to re-certify.
All food items brought into the kitchen are hechshered. The rabbinic certification from the distributor of foods is kept on file in the kitchen office. 
The rabbi is the sole person who may light the pilot light for the stove/oven burners.
Dining staff check produce for bugs and insects.
The rabbi performs regular checks in the kitchen to ensure policies are followed. 
The rabbi is available for questions from dining staff regarding kosher dining procedures and policies.
Cooking is not permitted during Shabbat or yom tov holidays.
All prepared food that leaves the kitchen in to-go containers for sale elsewhere on campus is sealed with special tape indicating kosher status. 
In the dining hall, all dishes, utensils and food are kept on a tray or tablecloth, not directly on the table. Dairy and meat dishes (including trays) are not served or brought onto the tables at the same time.
Outside food is not permitted into the downstairs dining hall area while the dining facility is operating.
During the preparation and serving of meals from the kitchens, and for one hour afterward, outside foods are not permitted to be introduced into the dining room. Dairy foods are not permitted to be introduced into the dining room until three hours after the completion of a meat meal.
During the eight days of Passover, additional kosher guidelines are adhered to in order to meet the highest standards of Passover kashrut.
Students eat at the Freeman Center for Jewish Life both by purchasing meals using their Duke meal plans for weekday dining and enjoying Shabbat and festive holiday meals at no cost to them. 
Questions about kashrut can be directed to jewishlife@duke.edu.
Duke colleagues and event planners: Are you interested in ordering kosher meals to offer at your Duke University campus event?
The Freeman Center Café can provide:
Full-service catering

Streamline your catering by ordering your entire menu from the Freeman Center Café. Guests who don't keep kosher can also enjoy delicious kosher food.
Select from the Café menu or work with our chef to dream up a menu fit for the occasion.

Packaged and sealed kosher meals, boxed-lunch style, made fresh by the Freeman Center Café

For all or some of your guests. This is the most typical request. 
Select from the Café menu or work with our chef to dream up a menu fit for the occasion.

Pre-packaged and sealed kosher meals, certified by the Orthodox Union

This option is typically to provide a distinct number of kosher meals for guests who specifically request Orthodox Union-certified kosher food.
Choose from a selection of separate menu items.

Kosher-for-Passover Catering

During the week of Passover, kosher-for-Passover meals are also available for order. Note that kosher dietary needs during Passover are different than standard kosher needs.
Contact freemandining@duke.edu with your request, and the Freeman Center Café team will work with you to meet your event needs.
Thank you for considering the dietary needs of your Jewish guests as you plan your event!