Visit Jewish Life at Duke
Considering Duke? Visit us and learn more.
Freeman Center Tour and Student Conversation
Academic Year (Late August to April)
The Freeman Center for Jewish Life, where Jewish Life at Duke is housed, is open for tours during the academic year (late August to April) on:
Monday through Friday: 9am to 5pm
Most Sundays during Fall and Spring semesters: 11am to 1pm*
Our student interns are available throughout the day to give you a tour of our building and discuss Jewish Life at Duke.
Please email us at jewishlife@duke.edu to let us know the date and time you plan to visit so that we can schedule an intern to meet you for a tour and answer questions.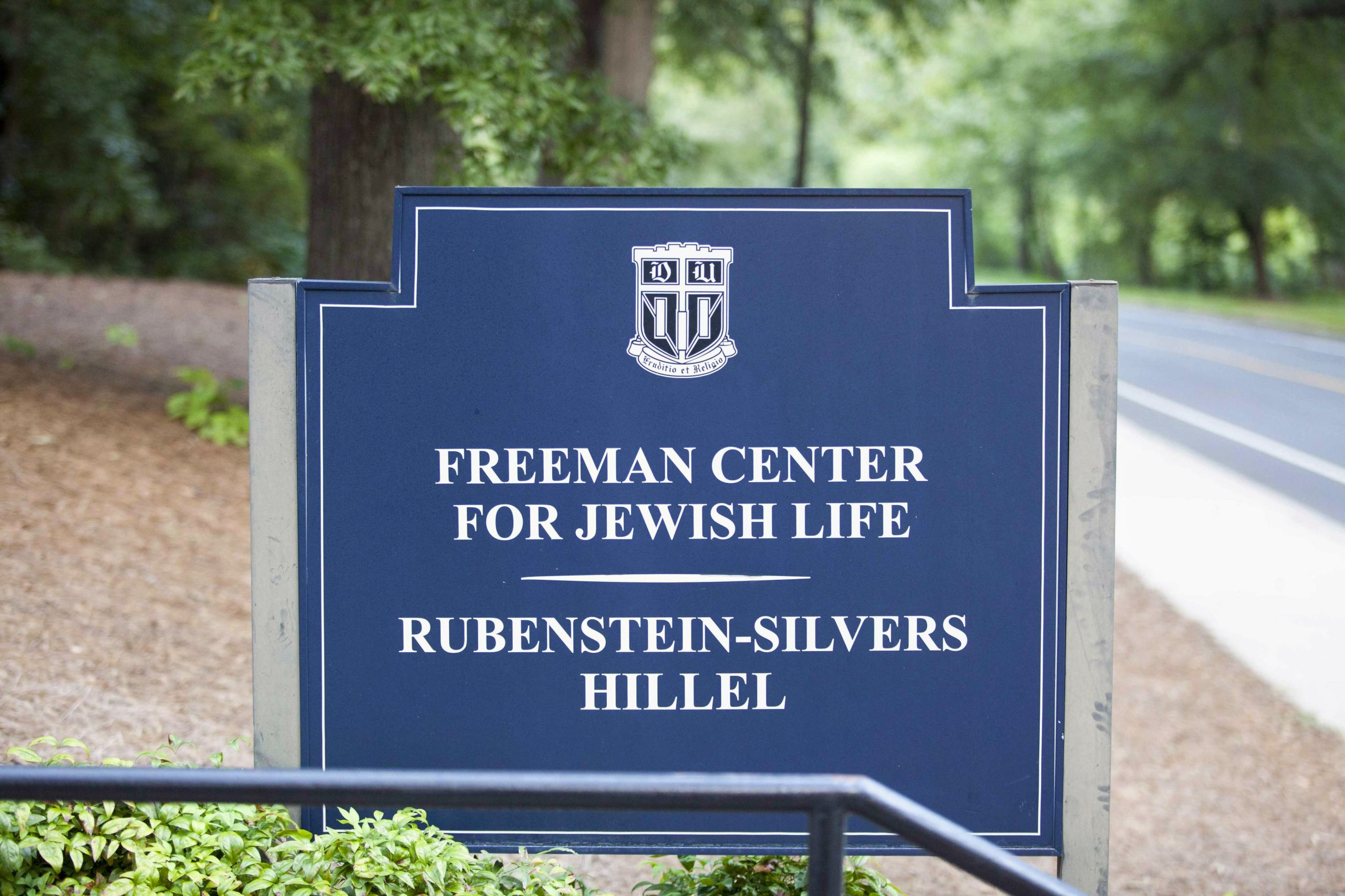 Sunday Bagel Brunch Visits
*On Sundays during the fall and spring semesters, we host a weekly Sunday Bagel Brunch from 11am-1pm at the Freeman Center for Jewish Life (downstairs patio, or upstairs lobby). We invite you to join us for a taste of the Jewish student community and programs. A student intern will also be on-site to answer your questions and walk you through the building.
Sunday bagel brunches will take place during the following dates in the 2023-2024 academic year: 
Fall Semester 2023: Sept 3, 10, 24; Oct. 1, 8, 22, 29; Nov. 5 (10am-12pm), 12, 19; Dec. 3, 10. 
Spring Semester 2024: Jan. 21, 28; Feb. 4, 11, 18, 25; March 3, 24, 31; April 7, 14.
Summer Hours (May to August)
During the summer (May through August), tours of the Freeman Center for Jewish Life, where Jewish Life at Duke is housed, are available by appointment.
Please email us at jewishlife@duke.edu with your requested visit date and time. 
If a student intern or staff member is unable to provide a tour at your desired time, you may drop by for a self-guided tour and walk-through of our building on Monday-Thursday. Our building is open by Duke Card access only, so please note a staff member will need to allow you access into the building.
Drop-By and Self-Guided Tours
If a student intern is not available, you are welcome to drop by during our hours of operation (Monday-Friday 9am-5pm during the academic year, August - early May), for a self-guided tour, walk around inside the building, or enjoy a meal or snack at the Freeman Center Café (open Monday-Thursday 12pm-7:30pm, Friday 12pm-2pm during the academic year).
Visiting on a Friday? Join us for Shabbat!
If you happen to be in town on Friday evening during the Fall or Spring semester while Duke classes are in session, we would love to have you and your family join us for weekly Shabbat observance with Jewish Life at Duke. Every Friday while classes are in session, we come together for a pluralistic, non-denominational Kabbalat Shabbat service from 6:00-7:00pm, followed by a kosher Shabbat dinner from 7:00-8:00pm. If you plan to join for dinner, please email us at jewishlife@duke.edu to let us know in advance if possible; include the date, number of people in your party, and any dietary restrictions (all food served is kosher).
Weekend Visits
If you are visiting outside of our standard office hours or Sunday Bagel Brunch times, while our building is closed for in-person tours/visits, we'd be happy to connect you with a current Jewish student via email or Zoom to meet and answer any questions virtually. Please email us at jewishlife@duke.edu and include any specific interests you might have (intended major, Jewish involvement, extracurricular interests, hometown, etc.).
Location and Parking Information
The Freeman Center for Jewish Life, home of Jewish Life at Duke and the Rubenstein-Silvers Hillel, is located at:
The Freeman Center for Jewish Life
Box 90936
1415 Faber St
Durham, NC 27708 
919-684-6422
We are located on the C-1 Bus Route at the corner of Campus Dr. and Swift Ave.
Free city street parking is available on Faber Street, Hull Street, and Powe Avenue.
The Freeman Center for Jewish Life parking lot requires a permit on weekdays before 5:00pm; if you park in this lot, please be sure to ask the front desk attendant for a free visitor's parking permit to display in your windshield.
Virtual Admissions Information Session
In October 2022, we hosted a virtual conversation with Jewish Life at Duke & Duke Undergraduate Admissions. Prospective Duke students & families were invited for an opportunity to explore Jewish life on campus and learn about the Duke admissions process. Watch the recording below or click here.
Jewish students make up 12-13% of the undergraduate student body at Duke.
Yes, we are the Duke Hillel! The Rubenstein-Silvers Hillel, the programs that make up Jewish Life at Duke (JLD), is accredited by Hillel International and has even been selected for several prestigious Hillel International initiatives. One thing that makes us unique is that in addition to being a fully accredited Hillel, Jewish Life at Duke is also a department within Duke University's Division of Student Affairs. This means we benefit from the best of both worlds—simultaneous support from two major institutions committed to JLD's future and success.
Yes. Kosher food is included on the Duke meal plan through the Freeman Center Café, our kosher facility under rabbinical supervision, operated in partnership with Duke Dining. Students can purchase a-la-carte, made-to-order options for lunch and dinner on Mondays-Thursdays from 12:00pm-7:30pm and lunch on Fridays from 12:00pm – 2:00pm. Orders can be placed in-person at the Freeman Center Café or on Duke Dine-Out the mobile ordering app.
We also offer kosher, sealed Grab & Go meals at dining locations across East and West Campus. 
Weekly Friday night Shabbat and holiday meals are served at the Freeman Center free of charge for students.
Learn more about Kosher Dining
Duke's Campus Rabbi and Jewish Chaplain, Elana Friedman, is a full-time staff member of Jewish Life at Duke. Rabbi Elana was ordained at the Reconstructionist Rabbinical College and has a diverse rabbinic background, which she relies on to serve a variety of student needs. Rabbi Elana serves as chief Jewish educator and spiritual leader of the campus Jewish community. In her role as Campus Rabbi, she provides counseling for students, offers opportunities for Jewish learning, and serves as liaison for Religious Life. She also facilitates the observance of Jewish holidays, supervises the kashrut of the kitchen, and holds duties related to educating the greater campus community about Judaism and Jewish observances.
We offer a robust range of programming, from community service projects, to Jewish educational programs, cultural Israel programs, social gatherings, holiday celebrations, and much more. We host guest speakers and film screenings, facilitate discussion, and partner with campus-wide programming as well. On average, we host between two to five events per week, though schedules vary throughout the semester. Additionally, we encourage student-initiated programs and are always receptive to students suggesting and developing new programs and events.
student life
Duke is home to a vibrant, close-knit Jewish community of more than 740 undergraduates with a diverse array of backgrounds and interests. We make it a priority to welcome all Jewish first-year students into the community. The Jewish First-Year Advisory Mentorship (JFAM) program, organized by the Jewish Student Union, pairs first-year students with upperclass students who provide insider insights about campus life and Jewish life, along with guidance, friendship, and support. Through various JFAM social gatherings – a traditional Welcome Back BBQ, JFAM Shabbat, and an Ice Cream Social, to name just a few – new students connect with each other and begin to develop their own niche on campus. Various programs and involvement with student groups throughout the year keep students connected and engaged.
student life
During the High Holidays, we hold Conservative, Reform, and community-wide services at the Freeman Center for Jewish Life. All services are free of charge and no registration is required. We also offer a variety of holiday meals including Erev Rosh Hashanah Dinner, Rosh Hashanah lunches and dinner, second day Rosh Hashanah lunch, Erev Yom Kippur pre-fast dinner, and Yom Kippur Break-Fast. Holiday meals are always free of charge for students. While Duke classes are typically held during the holidays, Duke's religious observance policy permits students to be excused from academic obligations on these days.
More about the High Holidays
We host a Friday night Shabbat experience at the Freeman Center for Jewish Life every week during the academic year. Core Shabbat programming begins at 6:00pm with a communal candle lighting and pluralistic Kabbalat Shabbat service. Shabbat services are held together as one Duke community, incorporating a variety of traditions. Shabbat services are followed by a delicious free kosher Shabbat dinner. Special Friday night programming occurs periodically throughout the academic year, which may include a theme, educational program, or special meal. Attendance at Shabbat services ranges between 40 - 75 people and attendance at Shabbat dinner ranges between 60 - 100 people.
The Orthodox student community at Duke is small. At the same time, our team at Jewish Life at Duke is committed to helping Orthodox students thrive at Duke. Our cultural, social, and educational programming is geared toward all Jewish students of all backgrounds, regardless of denomination. Additionally, there are resources on campus and in Durham to support Orthodox students. 
Supports at Duke include:
Residential: JLD works with the department of Housing and Residence Life (HRL) to ensure that traditionally-observant students are able to move in early, so as not to move in on Shabbat. HRL is committed to making good faith efforts to accommodate a student's sincerely held religious practices or beliefs that may conflict with HRL policies, procedures, or other requirements. Students requesting an alternative or early move-in day due to religious obligations should fill out the Early Arrival Request Form in their Housing Portal. As a part of this process, students may be asked to provide documentation supporting their need. Jewish Life at Duke staff can provide this via email correspondence; please email jewishlife@duke.edu to request supporting documentation. JLD also works with HRL to help students check out keys for room/dorm access, so they won't need to rely on electronic access during Shabbat and yom tov; students requesting items inside a residence hall be modified for religious observance (motion sensors, manual Shabbat entry vs. electronic key fob) are asked to submit a Maintenance Request.  Additionally, JLD is available to help students kasher their private kitchens in the 300 Swift residence hall.
Kashrut:

The Freeman Center Cafe, on the Duke meal plan, operates under rabbinical supervision by Duke's Campus Rabbi Elana Friedman, who serves as the

Rav HaMachshir

and

mashgicha

. The rabbi's office is located in the same building as the dining facility. Click here for the

kashrut standards

of the cafe. 

Academic:

Duke has a

religious observance policy

that permits students to miss class when it conflicts with a holiday. JLD not only promotes the use of this policy, but we coach individual students on its use, and help advocate for students' religious observance with faculty.

Passover Kashrut:

Before

Pesach

, Jewish Life at Duke and Duke Dining distribute boxes of sealed kosher-for-Passover matzah on West and East Campuses, to ensure that students have access to this necessity. The Freeman Center Cafe serves strictly kosher for Passover meals for breakfast, lunch, and dinner throughout the holiday. 
Local community resources include:
Durham Orthodox Kehillah:

The Durham Orthodox Kehillah meets at Beth El Synagogue. Members of the Orthodox Union, this congregation welcomes students and members of the community to Shabbat morning minyan, which begins at 9 am, followed by a light kiddush. 

Durham Eruv:

The Durham Eruv is approved by Orthodox Rabbi Love from Berkeley, CA, and Conservative Rabbi Heller, from Atlanta, GA. The eruv encompasses East Campus and the surrounding neighborhoods. 

Kosher food/grocery shopping:

area grocery stores, such as Harris Teeter, Wegman's, Whole Foods, and Trader Joe's, stock

hekshered

ingredients and products. In addition to the Freeman Center Cafe, the Yalla Food Truck also offers kosher food options.

Chabad:

Chabad is a

recognized Duke student group

, and is not directly affiliated with Jewish Life at Duke. There are two Chabad organizations in the area (in Durham and in Chapel Hill), both of which welcome Duke students for Shabbat and holidays.
Students often find themselves locked into the "college bubble," but for those looking to engage with the larger Jewish community at hand, there are a multitude of organizations to get involved with. The Durham and Triangle area is fortunate to have a large, supportive, and active Jewish community for students to participate in, from working as Hebrew/Religious School teachers to participating in holidays and events.
Jews have a long and rich history of life in the South. For a comprehensive history we highly recommend Leonard Rogoff's book, Homelands: Southern Jewish Identity in Durham and Chapel Hill, North Carolina. An excellent abridgment of his book can be found here.
Local Synagogues
Community Organizations
Duke University
In a virtual conversation for 2020 New Student Orientation, student leaders answered questions about Religious Life at Duke, including how to get connected with a campus religious group, finding time to reflect, and integrating your faith and classroom learning. Sarah Jacobs, T'21, President of the Jewish Student Union at the time, served as panelist. Watch the discussion here.
Additional Resources: