Last Wednesday, Duke's Center for Sexual and Gender Diversity (CSGD) brought together more than 20 campus and community partners for a celebration of National Coming Out Day.
Observed every year on October 11 — the anniversary of the 1987 March on Washington for Lesbian and Gay Rights and the first display of the AIDS Memorial Quilt in Washington, D.C. — National Coming Out Day aims to combat homophobia and transphobia by recognizing the power of visibility for the LGBTQ+ community. The holiday also encourages LGBTQ+ individuals to come out and claim their identities proudly, as an act of resistance against discriminatory laws and attitudes that seek to silence them.
Here on campus, student organizations like Blue Devils United and Duke Votes set up tables on BC Plaza alongside CSGD and other teams from the Division of Student Affairs. In addition to free games and giveaways, students could receive t-shirts by visiting at least three different campus partners and learning about the resources available to support LGBTQ+ students at Duke.
"This was my first Coming Out Day at Duke, and I was in awe of how much engagement and community support was present on the BC Plaza," said Haley Qualls, Assistant Director of CSGD. "I think it is really special for us to center queer joy with our amazing community partners in light of the harmful legislation in North Carolina and across the country."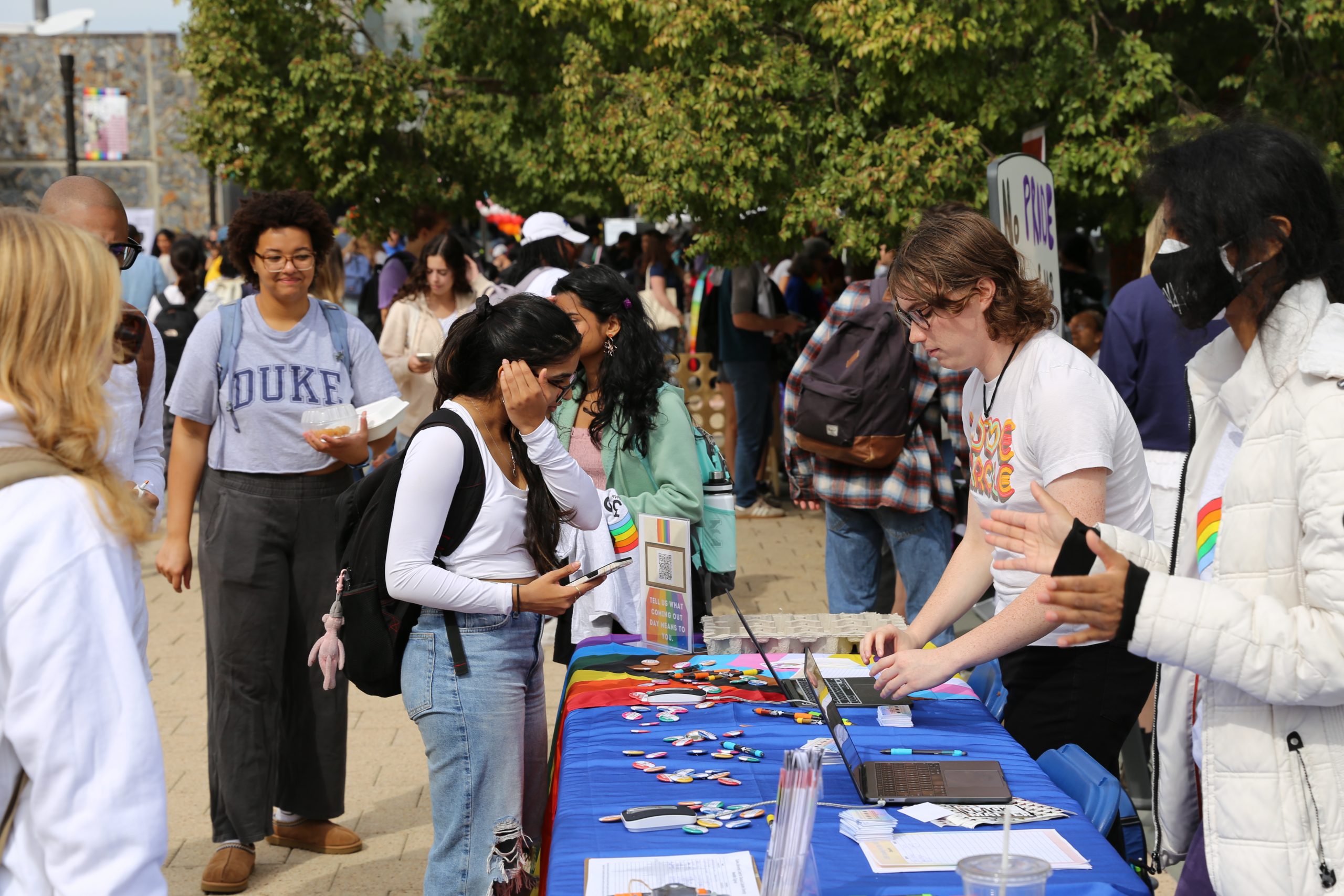 Decades of Campus Pride
National Coming Out Day falls in the middle of LGBTQIA+ History Month, a time to honor the people and organizations who have fought for LGBTQ+ rights, both here in the U.S. and around the world.
October also marks the anniversary of CSGD's founding. Responding to the advocacy of student groups like the Duke Gay and Lesbian Alliance, President Keith Brodie's Task Force on Lesbian, Gay, and Bisexual Matters established the Center in 1994. At the time, it was called the University Center for Lesbian, Gay and Bisexual Life, and it had no full- or part-time staff beyond one work-study student. Yet in the three decades since its founding, CSGD has grown to offer a full range of resources and events for LGBTQ+ students and the greater Duke community.
Today, teams across the Division of Student Affairs celebrate LGBTQIA+ History Month, and many joined CSGD for National Coming Out Day last week. The teams represented at BC Plaza included Counseling and Psychological Services (CAPS), Duke Chapel Student Ministry, the Center for Muslim Life (CML), the Mary Lou Williams Center for Black Culture (MLWC), the Center for Multicultural Affairs (CMA), Jewish Life at Duke (JLD), Episcopal Center, Housing and Residence Life (HRL), Duke Reach, Duke International Student Center (DISC), Women's Center, Career Center, Recreation and Physical Education, Student Health, University Archives, Athletics, and Duke Campus Farms.
Community partners from Durham, including Equality NC and the LGBTQ Center of Durham, also joined the celebration on BC Plaza.
Upcoming Events with CSGD
CSGD's programming for LGBTQIA+ History Month continued this week, with workshops featuring Dr. Raja G. Bhattar. CSGD also hosts Kickback Fridays each week in the Bryan Center, offering LGBTQ+ students and allies a place to start their weekend among community.
In November, CSGD will collaborate with the LGBTQ Center of Durham to host Trans Day of Remembrance, an opportunity to honor the people whose lives were cut short by acts of violent transphobia. More details, including the time and location of the memorial service, will be announced in the coming weeks.
To stay in the know about CSGD programming, follow the Center on Instagram or stop by the Center's offices in the Bryan Center!