At Duke Dining, we think being "sustainable" means operating deliberately—being intentional and thoughtful in how we feed the Duke community. That's why we call our sustainability program, "Deliberate Dining."
Duke Dining recognizes that the modern food system often pursues efficiencies and profit at the expense of environmental health, community well-being, and fair economic relationships. Faced with this reality, we eagerly take on the role of potential catalyst in this system.
In short, sustainability—operating deliberately—isn't optional for Duke Dining; it's who we are and how we define ourselves.
To help steer our efforts, we've identified a series of specific food & sustainability problems that we are working to address.
Antibiotic Use in Animal Agriculture:
The overuse of antibiotics, synthetic hormones, and pesticides in food production poses a risk to human health.
Animal Welfare:
Conventional food production often involves the unethical treatment of animals where they are denied the "five freedoms" (freedom from hunger or thirst, discomfort, pain, injury or disease, freedom to express most normal behavior, freedom from fear and distress).
Food Waste:
Food waste and food loss are caused by practices on the farm, in the retail market, and at the point of consumption.
Environmental Impacts:
Conventional farming practices often lead to environmental destruction on land in the form of soil infertility, water pollution, and erosion.
Institutional Structures:
Systemic, underlying policies and industry practices encourage and create an unsustainable food system.
Economic Cost:
The economic and operational viability of running an operation that prioritizes sustainability can be difficult.
Ocean Impacts:
Conventional fishing and fish farming practices often lead to environmental destruction at sea in the form of ecosystem collapse, animal extinction, and water pollution.
Climate Change:
The production and over consumption of certain foods are contributing to climate change.
Labor Practices:
Food production workers are often subjected to unfair labor practices where they are paid too little and exposed to workplace hazards.
Food Literacy:
There is a lack of food literacy among the general population.
Procurement
It matters where our food comes from. Duke Dining has identified clear standards for the food it prefers to purchase.
Menus
Our food choices affect both our health and the environment. Duke Dining is committed to protecting both.
Waste Reduction & Recovery
Duke Dining is working to reduce dining-related waste across campus.
Our 2021 Results:
Each year, Duke Dining tracks its sustainable purchasing as we move towards our 2024 goals.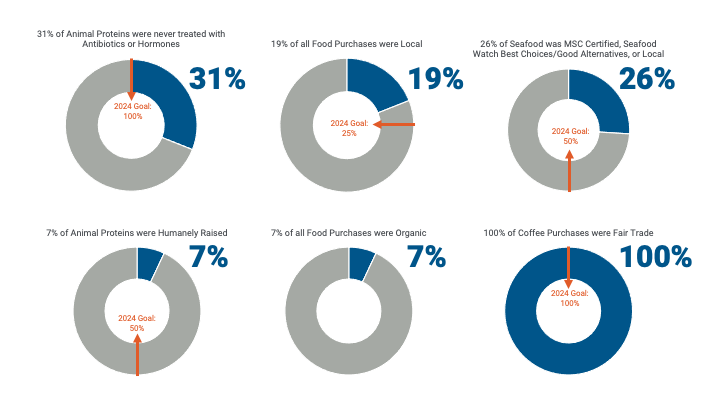 2017-2018 Deliberate Dining Report
Reusable Mug Discount!
Every day, customers who bring their own reusable cup* to any Duke Dining location receive a 20 % discount on brewed coffee or fountain beverage.
*Reusable cups cannot exceed 16 ounces. The discount does not apply to specialty beverages.
Climate Conscious Dining
Climate Conscious Dining means thinking about the carbon footprint of the food you eat and, at the same time, honoring your health and nutrition needs.
To promote climate conscious dining, vegetarian and vegan entrees are offered at every meal, every day at all Duke Dining locations.
Reusable To-Go Container Program
Ready to ditch disposables? Enroll online for our Reusable To-Go Container Program! Find our more information and register here! Once your registration has been processed you will be notified of your start date.
Reusable to-go containers are available for check out at Marketplace and Brodhead Center dining locations only, excluding Panera Bread.
Only one container may be checked out at a time.
After you have finished using a container, you can easily check the container back in at the Brodhead Center dish return area.
A DukeCard is required to participate.