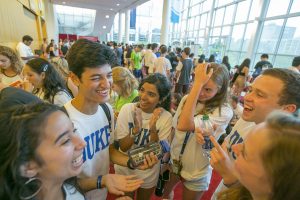 Today and in the future, Student Affairs will work closely with students to enhance leadership opportunities, promote interaction and familiarity among diverse racial, ethnic, international and political perspectives, support healthy habits and lifestyles, and provide outstanding career counseling and post-graduate opportunities. We will also encourage community and environmental involvement, whether with one of the hundreds of student organizations on campus, out in the Durham community, or anywhere in the world their passions lead.
Support Initiatives and Options
We are grateful for your support and want giving to Duke and Student Affairs to be convenient and easy for you. You can support Duke and the initiatives that are important to you in various ways. Non-monetary gifts are possible and appreciated.