Leadership development and student groups are the cornerstones of the Student Involvement & Leadership team. Connect with our team to learn about opportunities to get involved on campus and ways to grow as a leader.
The staff of the Student Involvement & Leadership team serves in an advisory capacity to Duke University Union, Duke Student Government, fraternities & sororities, and a variety of other groups.
Mission
Student Involvement & Leadership helps students co-create Duke experiences that enhance their sense of belonging through meaningful programming, advising, and training.
Values
Driven by our students, our team, and our greater community, Student Involvement & Leadership values compassion, trustworthiness, inclusion, knowledge, and fun.
Below are the leadership competencies that Student Involvement & Leadership uses when designing events, trainings, and workshops.
Adapted from the Social Change Model of Leadership Development (1994) and the Culturally Relevant Leadership Framework (2016)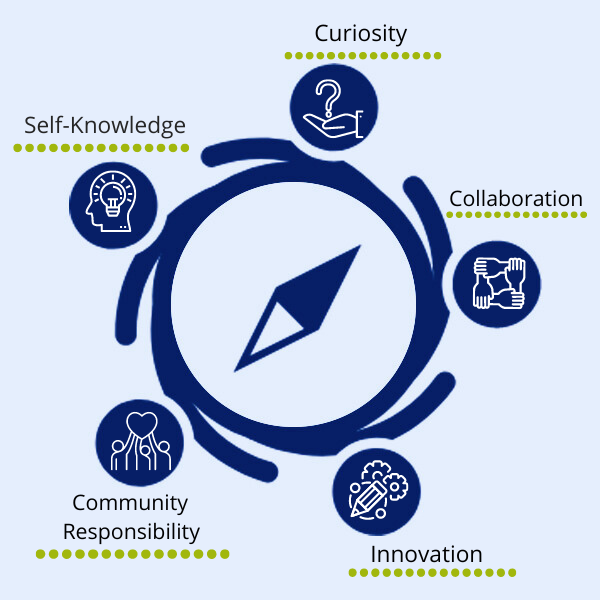 Self-Knowledge (internal character focus)

Student is aware of how they are perceived by others; this knowledge of self is informed by both their identity and society and they know how this informs their practice of leadership.
Student possesses confidence and efficacy with self-awareness and makes commitments that are prioritized appropriately. Student is aware of the scope of their competence and knows where their expertise lies.
Student practices congruence of their values with behaviors demonstrating integrity and high personal standards. When an internal conflict of values arises, student understands how to navigate that dissonance.

Curiosity (external character focus)

Student understands and exhibits healthy risk taking, showing humility, courage, and interest in learning about others' identities and experiences.
Student exhibits self-assurance that they have positive qualities balanced with a focus on continuous improvement of self; regularly seeks feedback and learns from failure.
Student asks for help or connects with others when faced with challenges.

Collaboration

Student practices effective communication, as appropriate to the situation.
Student values and knows how to build belonging in a group.
Student has skills in organizational management including motivating a group around a common purpose, navigating controversy or conflict with civility, including and valuing diverse voices, and ensuring equal and equitable contribution from all members. Student both exhibits and facilitates sharing of ideas and distribution or delegation of responsibilities across team members.
Student is able to discern collaborations or partnerships that make sense for the topic and builds quality collaboration from idea inception.

Innovation (internal community focus)

Student exhibits understanding of change process and practices change management skills towards positive change. This includes practicing coalition building and activism informed by actual needs and root cause.
Student advocates for an asset-based approach to change work.

Community Responsibility (external community focus)

Student values social responsibility, working towards and with groups, causes, and communities they care about.
Student does this work with a level of selflessness, not to build their own ego or resume.
Student understands the interconnectedness of experiences and uses this to foster a climate of belonging.
Our Team
Trying to find us? Our team works on a hybrid schedule so email is likely the best way to contact us.
Anna Lehnen (she/her)
Director
Contact Anna for information about the Penny Pilgrim George Women's Leadership Initiative, leadership education opportunities, and general office questions.
Lamar Walker (he/him)
Associate Director
Contact Lamar for information about student organizations (new groups, contracts, policies, and event registration) and the Duke Groups platform.
Sam Lopez (she/her)
Associate Director
Contact Sam for information about the Penny Pilgram George Women's Leadership Initiative, Project Lead, Fraternity & Sorority Life, and general leadership initiatives.
Michael Croal (he/him)
Assistant Director
Contact Michael for information about Duke University Union (DUU), DUU events, and the Wetherby Fund.
Kaitlyn Schmitt (she/her)
Assistant Director
Contact Kaitlyn for information about Penny Pilgrim George Women's Leadership Initiative first-year and alumnae programs, Multicultural Greek Council, and general leadership programs.
Juwan Jacobs (he/him)
Assistant Director
Contact Juwan for information about Duke Student Government, National Pan-Hellenic Council, and the In the Spotlight awards program.
Reesa Artz
Graduate Assistant
Reesa works with the Duke University Union, directly advising student leaders within the organization.
Irene Jonathan
Graduate Assistant
Simone Spencer
Graduate Assistant
Bela Latorre
Graduate Assistant
Contact Us
Email:
leadership@duke.edu
Mailing:
125 Science Drive
Durham, NC 27708

Come see us in the Bryan Center suite 101!