The WomC Awards, or Duke Women's Center Awards, are our way of celebrating Duke students who have gone above and beyond in advancing gender equity on our campus. At this event, we celebrate a year's long fellowship with our allies and advocates in social change with awesome speakers, free food, and lots of fun! The WomC Award ceremony recognizes individuals and campus organizations making an impact at Duke and beyond with 5 award categories to honor the amazing contributions of women and femme-identified folks on campus, locally, state-wide, and nationally. View descriptions of our award categories and past award winners below!
2023 WomC Nominations have been chosen!
Thank you to everyone who nominated an individual for a WomC Awards. Winners are being notified. Save your seat at the awards ceremony and register now!
WOMC CAMPUS IMPACT AWARDS
Eden Schumer
Eden is a sophomore from Westport, CT studying public policy, political science, and gender, sexuality and feminist studies. Passionate about social justice, education, and civic engagement, Eden co-founded/directed the recent S.H.A.P.E. Initiative; is President of Empower Her Voice (Duke Chapter), an international feminist collective working to promote girls' education and their empowerment; and hopes to continue helping the Duke community evolve through advocacy, collaboration and mentorship.
Jake Jeffries
Jake is a sophomore from Foster City, CA studying public policy, computer science, and philosophy. As a member of the Duke Student Government, Jake co-founded/directed the S.H.A.P.E. Initiative and continues to work on programs addressing Duke social culture in hopes of cultivating a more inclusive Duke identity.
About S.H.A.P.E.
The S.H.A.P.E. Initiative at Duke (Sexual Harassment and Assault Prevention & Education) is a student-driven, multi-faceted campaign to address sexual assault in the Duke community. The Initiative launched this February with its first annual S.H.A.P.E. Week, an awareness week achieved through the collaboration of over twenty different undergraduate and graduate student groups, academic departments, and centers across campus. The week of events featured intervention workshops, trainings, forums, resources and other activities, concluding with a keynote speech by 2018 Nobel Peace Prize laureate Nadia Murad. S.H.A.P.E.'s goals are to highlight current prevention methods and campus resources; support policy reform; collaborate with other student groups and departments committed to addressing and ending sexual assault; and educate members of the Duke community about how these issues are perpetuated by certain aspects of our climate. We hope the Initiative will continue to be part of amplifying these important conversations and improving the safety and general experience for everyone at Duke.
---
WOMC DISTINCTION AWARDS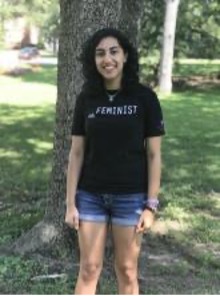 Mehreen Shafqat
Mehreen has been a rockstar for the Women's Center for 3 years as a Gender Violence Prevention Education Facilitator! She is a graduating senior from St. Louis, MO; majoring in biology and minoring in gender, sexuality, and feminist studies. In her spare time, she loves to read, talk to her family, volunteer with the Institute for Social Policy and Understanding, and is a member of the Nexus. Mehreen has had such an impact on the work of the Women's Center and all of the prevention and education trainings, such as P.A.C.T. and the 5 Key Norms. She continues to be an integral part of shifting culture and changing behavior.
Maggie Thomas
Maggie is a leader at Duke and is burning a path for others. Her expertise and guidance has earned her this award of distinction. She is graduating from Duke Divinity School this spring with a Masters of Theological Studies. During her time at Duke, she has served as the co-president of the Duke Divinity Women's Center and the Gender Violence Prevention Graduate Assistant at the Duke Women's Center, as well as the Pastoral Intern at various churches in the area. Before moving to North Carolina, Maggie studies Social Work and Speech Pathology at the University of Illinois at Urbana-Champaign and hopes to return for a Masters of Social Work next year. She has enjoyed calling Durham home with her husband, Zach, and their two dogs, Onyx and Atl.
---
WOMC GLOBAL IMPACT AWARD
The Calla Campaign 
The Calla Campaign is the creation of a proud team of female engineers, physicians, historians, humanists, global health researchers, and artists. The project's purpose is to reframe women's reproductive health through a self-exploration project that educates and empowers women about their own reproductive anatomy and shares findings with the public via a series of art exhibits to raise awareness and promote dialogue.
The Calla Campaign involves (1) woman-centric technology, the Callascope, for self-visualization of the inner vagina and cervix, (2) in-depth interviews of women from different cultures, education and socioeconomic levels, (3) art and storytelling by local and nationally renowned artists. It is being piloted with local women in Durham, NC, USA with plans to expand to a multicultural scale with women in Lima, Peru and Accra, Ghana.
---
WOMAN OF STRENGTH AWARD
Dr. Zoila Airall
This year's Woman of Strength shows that the greatest embodiment of strength is held in wisdom and  leadership. Zoila Airall is completing her 18th year as the Assistant Vice President for Campus Life in Student Affairs and Adjunct Associate Professor of the Practice in Education at Duke University.  Her administrative responsibilities include oversight of seven cultural centers, the University Center for Student Activities and Events and she serves as the liaison to the Duke Chapel Religious Life staff. 
After receiving two graduate counseling degrees at Columbia University and working for ten years in counseling in a high school, a college and a mental health clinic, Airall became fascinated with the culture of learning and schooling and continued on for a doctorate in Anthropology of Education at Penn.  She also teaches in her field at Duke. Two former college presidents for whom she worked described her as a risk taker because of her willingness to blaze trails.  In 1981, she made history by becoming the first person of color to ever work at Bethany College, a small liberal arts college in West Virginia.  Another president described her as someone who has a wide-angle view about people and she attributes that to having spent her first 18 years of life, growing up in the US, Panama Canal Zone and Germany. 
As a musician, Airall is the substitute organist at Epworth United Methodist Church and a violinist in a small string ensemble.  Committed to community service and the arts, she is a member of Rotary International, and has served on Durham's Cultural Advisory Board.  As a passionate social justice advocate, Airall has worked for ten years with the National Advisory Council for Race and Ethnicity in Higher Education. 
The international organization for which she has been a member for 42 years is Alpha Kappa Alpha Sorority.  In 1978 she became an Alpha Kappa Alpha woman in Theta Pi Omega, a graduate Chapter in New Jersey. Later Airall served as the chapter's president, and representative on several committees for the North Atlantic Region.  She is currently a member of Mu Omicron Omega Chapter in Chapel Hill, North Carolina.
Emerging Campus Award: Amelia Steinbach, Duke Honor Council
Campus Impact Award: Sydney Lane, Black Women's Union
Community Impact Award: Uyi Idahor, Young Women of Progress
State Impact Award: North Carolina Council for Women and Youth Involvement
National Impact Award: Kelly Fair, Polished Pebbles
Global Impact Award: Anwuli Ngozi Okonjo, Through the Eyes of African Women
The Woman of Strength Award: Cathy Watson, Duke Divinity School
Emerging Impact Undergraduate Award: Ana Ramirez, Define American
Emerging Impact Graduate/Professional Award: Adela Deanova, Project Vox
Campus Impact Award: Elizabeth Barahona, Lambda Theta Alpha Sorority, Incorporated
Community Impact Award: Melissa Beretta, The Girls Club
Digital Impact Award: Chandler Phillips and Eliza Moreno, The Bridge
National Impact Award: Katie Wyatt, El Sistema, USA
Emerging Impact Award: Julia Roberts, Women in science and engineering.
Community Impact Award: Tangela Stoner-Blackwell
State Impact Award: Partnership for Appalachian Girls' Education
National Impact Award: NC Organizers, Women's March on Washington
Global Impact Award: Alexandria Miller, Critical analysis of artistry of Caribbean Women.